How to get a cheap air ticket
5 recommendations for cheap and safe travelling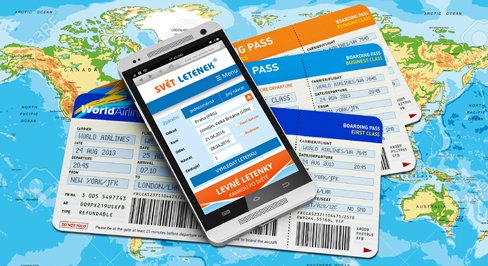 1. MAKE A TIME SCHEDULE ASAP
There is no term "last minute air tickets" for the transport of passengers. The closer is the day of departure, the higher the air ticket price is. That is why we do not recommend pending the air ticket chase at the last moment – it is not worth.
The cheapest are "first minute" air tickets – several months before the departure. However, only limited quantity of such air tickets are available in the moment of promulgation of a price reduction. Who will be for booking air tickets in time, he/she flyes abroad the cheapest. So that´s all.
2. CHOOSE YOUR CUSTODIAN
You need not to take a leave in your work, to monitor action offers of any and all airlines 24 hours a day. Other may monitor it instead of you. You must to choose a credible professional source only.
How to recognize such source? Such a way for example, they do not add any hidden charges. Apart from FAQs they would be able to respond also any other question. Apart from web they have an actual brick and mortar branch. They are always acting with you fair.
3. DO NOT PAY ANY EXTRA CHARGES
Do not believe in attractive promises of air tickets featured with magic discounts up to 90 % - such "steal" would become badly expensive. Make sure, that printed air ticket price is really final, as well. It is not always clear from the offer.
You will not find any "extra charges" on our web. Even the booking our clients do not pay for – booking is free of charge. Yes, in our opinion, it is to be a sure thing (however, not all vendors think the same).
4. VERIFY THE PAYMENT SAFETY
Card payment is comfortable, but always it is done by some third party. That is why we have accounts with all significant bank houses – you are allowed to pay for air ticket directly from your account, keeping 100% safety and without any mediators.
We do not force you to pay thru a card also for other reason. We wish you may book the air ticket immediately if suddenly an excellent action takes place – but to have the occasion to discuss your travel schedule at home, at work and/or with friends, as well.
5. TAKE INTO ACCOUNT A LOOPHOLE, AS WELL
Not always the cheapest air ticket represents the best choice. You may save some money with competitors… but afterwards pray for avoiding the change in flight and/or "forgotten" visas.
Price of our air tickets involves an unrivalled services. We will always advice for what the attention must be paid. We can find an accommodation, and/or car rental. We will help you should a trouble during the travel appears. Simply, we never leave you to walk out.
---
IS YOUR AIR TICKET VENDOR CAPABLE TO ENSURE YOU THE SAME?
Look at our action air ticket price for last days
---
FAQ
Should a response for your question is not involved here, you will surely obtain it thru our phone +420 596 123 456 and/or e-mail letenky@svet-letenek.cz.
Click on desired question below to open and get an answer.
Q: How to know that your booking was successful?
A: As soon as you fill in the last step or booking procedure the names of passengers, contact with a client (phone + e-mail), you would choose payment procedure and click the pushbutton POTVRDIT (Confirm), the air ticket booking takes place. Booking code would be displayed and a time period, within which the air ticket(s) must be paid. In the same moment you will obtain to given e-mail address a confirmation on performing the air ticket booking. Any and all booking details will be involved in, as well as the itinerary of ordered flight and contacts to the SVĚT LETENEK® branch.
Q: What is to be in the center of my attention?
A: Please, the biggest attention must be paid to entering the right first and family names – data must be entered the same way like in your travel document, you will use during your travel abroad (first, pertinently second name and family name must be in compliance with travel documents).
Q: Under which terms the air ticket may be returned and/or flight date changed? How to proceed?
A: Choosing the air ticket you may click on the link Tariff terms, where the cancellation and change terms are listed. Should you make air ticket booking and you are not sure, under which terms you may to change or to cancel said air ticket, contact us, please, on phone number +420 596 123 456, and/or e-mail address: letenky@svet-letenek.cz. You will be informed immediately. We do speak english as well.
Q: Making a mistake during the booking procedure?
A: Immediately contact us and we would try to resolve said situation together with you.
Q: Is the payment term a final one?
A: Term for booking payment and air ticket issuance are specified by airlines, that is why we all must respect it. Should the issuance term was given; we and you must comply with it. In some cases we are allowed to postpone the term of air ticket issuance, the airline approval is necessary. Thus, in case that you need to manage the air ticket postponing term, contact us, please.
Q: Is the booking air ticket price final?
A: Yes, air ticket prices, as given in our browser, are final ones, involving all charges, additional fuel charges, and airport fees. Thus you need not be afraid of any hidden charges, being applied by some air ticket vendors.
Q: We want to fly as a bigger group of passengers, how to proceed?
A: Group air ticket bookings are governed with a special rules, where is valid, that not always the bigger number of passengers would ensure a lower price. It is always necessary to consult with us a booking the air tickets for groups of passengers. We will offer to you the best terms, respecting you individual needs and specifications. In case you plan the travel as a group (over 10 persons), please, contact our phone No. 420 596 123 456, and/or e-mail: letenky@svet-letenek.cz.
Q: Where to find permitted weight of accompanying luggage to be taken on board?
A: Permitted limit of luggage weight was mentioned at the air ticket. Your air ticket involves also other important and needed information.
Q: What is the air ticket form?
A: Electronic air tickets are used nowadays only. It is sufficient to make a hard copy of the electronic air ticket, to be sent to your e-mail. In case of any questions do not hesitate to contact us on phone No. +420 596 123 456, and/or email: letenky@svet-letenek.cz. We are ready to assist to you.
Q: What the charter flights mean and how to acquire such air ticket?
A: Charter flights are price favorable flights to popular destinations in the Europe and overseas. The above mentioned flights are used especially by travel bureau clients within the standard pack of travel services, being combined with the accommodation.
Charter air tickets you may acquire in case that you will contact our phone No. 420 596 123 456 and/or e-mail:letenky@svet-letenek.cz. We would like to procure charter air tickets for you.
Q: Are the charter air tickets more advantageous?
A: Advantage from the charter nonsked must be assessed by any passenger him and/or herself. Despite the fact that price may be lower a bit, charter flights are mostly used fly out of main airports. Another disadvantage is that the term of a charter flight may be changed even by several hours. The tour agency, organizing such a tour, solves said change thru ensuring the bringing the clients to the airport.
Should you have a charter air ticket only, you have to re-schedule pertinent change in departure yourself. In case of your interest in charter air ticket you would choose a flight, which satisfies you from the points of view of date, destination and price. Afterwards, please contact our phone +420 596 123 456, and/or email: letenky@svet-letenek.cz. Our consultants would be engaged to resolve any and all details for you.